Dr. Janelle Marie Baker
Assistant Professor
Contact
Education
Bachelor of Arts, First Class Honours, Anthropology, University of Calgary
Master of Arts, Anthropology, University of Alberta
PhD, Anthropology, McGill University
Biography
My research is on sakâwiyiniwak (Northern Bush Cree) experiences with wild food contamination in Alberta's oil sands region. My academic work is inspired from doing applied research as a traditional land use consultant for First Nations in the region since 2006. I continue to be involved in community-based environmental monitoring (berries and wetland plants) projects with Aboriginal communities in Alberta's oil sands region, which are funded by the Indigenous Knowledge, Community Monitoring and Citizen Science Branch of the Alberta Government. I am also working on new research that celebrates traditional foods and boreal forest identities. My specializations include ethnography of contamination, environmental and ecological anthropology, ethnobiology and ethnoecology, post-humanism and the anthropocene, anthropology of food, community-based research methods, political ecology, and ethnographic writing. As a female academic and a mother, I am also interested in feminism in academia and anthropology, and feminist research about landscapes and food procurement.
I grew up and live in the foothills of the Canadian Rockies, in the boreal forest in rural Alberta and actively support local agriculture and community-shared organic and sustainable farms. I also love to garden, in spite of the short growing season near the mountains, and respectfully and sustainably forage for wild foods (especially berries) and other useful plants. My mother and her mother are Métis and are active farmers, gardeners, crafters, and canners, and so "the apple doesn't fall far from the tree".
You can read more about my research and reflections on the following sites:
I am currently affiliated with the following projects: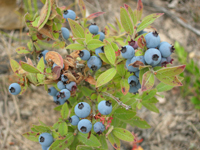 Recent Publications
Baker, Janelle M. & Fort McKay Berry Group. 2019 (in press). Cranberries are Medicine: Monitoring, Sharing, and Consuming Cranberries in Fort McKay. In Wisdom Engaged: Traditional Knowledge for Northern Community Well-Being, edited by L.M. Johnson. Edmonton: University of Alberta Press.
Baker, Janelle M. & Clinton N. Westman. 2018 Extracting Knowledge: Social Science, Environmental Impact Assessment, and Indigenous Consultation in the Oil Sands of Alberta, Canada. In The Extractive Industries and Society, (5):144-153.
External Link
Black Elk, Linda & Janelle Marie Baker. 2018 (in press). From Traplines to Pipelines: Oil Sands and Pollution of Berries and Sacred Lands from Northern Alberta to North Dakota. In Indigenous Peoples' Land Rights and the Roles of Ethnoecology and Ethnobotany: Strategies for Canada's Future, edited by N.J. Turner. Kingston: McGill-Queen's University Press.
Baker, Janelle M. 2016. Research as Reciprocity: Northern Cree Community-Based and Community-Engaged Research on Wild Food Contamination in Alberta's Oil Sands Region. Engaged Scholar Journal: Community-Engaged Research, Teaching, and Learning, 2(1):109-123.
External Site
Johnson, Leslie Main and Janelle Marie Baker. 2014. Teaching Ethnobiology On-Line at a Canadian Distance Learning University. In Innovative Strategies for Teaching in the Plant Sciences. Cassandra L. Quave, ed. New York: Springer Press.
Wyatt, Stephen and Janelle Marie Baker. 2014. First Nations and Shale Gas in New Brunswick: Partners or Bystanders? Economic and Social Development of First Nations Communities, Aboriginal Rights and Opportunities for Developing Natural Gas from Shale. In Shale Gas in New Brunswick: Towards a Better Understanding. Richard Saillant, ed. Moncton: Canadian Institute for Research on Public Policy and Public Administration.
Baker, Janelle Marie. 2012. Wirikuta, Birthplace of the Sun: A Wixarika (Huichol) Sacred Site. Langscape 2(11): 28-30.
Baker, Janelle Marie. 2005. Makola Market, Cape Coast Castle, Lucy. Anthropology and Humanism (30)1 : 93-94.
Book Reviews
Baker, Janelle Marie. 2015. Review of Urban Pollution: Cultural Meanings, Social Practices by Eveline Dürr and Rivke Jaffe. Ethnobiology Letters 6(1):114-115.
Online Publications
Baker, Janelle Marie. 2017. In Search of the Toxic Berry Patch. Thematic series: Toxic Bodies. Engagement: A blog published by the Anthropology and Environment Society, a section of the American Anthropological Association
External Site
Baker, Janelle Marie.2016. Harvesting Ruins: The im/permanence of work camps and reclaiming colonized landscapes in the northern Alberta oil sands. Thematic series: Life on the Frontier: The Environmental Anthropology of Settler Colonialism. Engagement: A blog published by the Anthropology and Environment Society, a section of the American Anthropological Association.
External Link
Baker, Janelle Marie. 2014. Review of Medicinal Plants and the Treatment of the Elderly in Thailand, By Lisa C. Offringa. Dissertation Reviews.
External Site
Baker, Janelle Marie. 2014. Our Northern Blind Spot. Huffington Post.
External Site
Baker, Janelle Marie. 2014. The Benefits of Being an Academ-Hick. Huffington Post. The Benefits of Being an Academi-Hick.
External Site
Baker, Janelle Marie. 2006. Urban Nomads in Edmonton: Moving as a Coping Strategy. A Report Prepared for Boyle Street Community Services.
External Site
iv. Media Exposure
McCarthy, Shawn. 2015 (November). Where oil and water mix. The Globe and Mail.
External Site
Updated July 17 2018 by Student & Academic Services