Dr. Janelle Marie Baker
Assistant Professor
Contact
Education
Bachelor of Arts, First Class Honours, Anthropology, University of Calgary
Master of Arts, Anthropology, University of Alberta
PhD, Anthropology, McGill University
Recent Awards
Current Research
I have two research projects based in Alberta:
The first is an ongoing collaboration with Bigstone Cree Nation on sakâwiyiniwak (Northern Bush Cree) experiences with wild food contamination in Alberta's oil sands region. This work involves community based environmental monitoring for food sovereignty and specifically looks at the health of water and moose in Bigstone Cree Nation territory. We are also recording local indicators for climate change.
I am also a co-PI on a project called "Plural perspectives on Bighorn Country: Restor(y)ing land use governance and bull trout population health in Alberta," funded by the SSHRC New Frontiers Exploration Stream.
My specializations include ethnography of contamination, environmental and ecological anthropology, ethnobiology and ethnoecology, post-humanism and the anthropocene, anthropology of food, community-based research methods, political ecology, and ethnographic writing.
I have the following affiliations: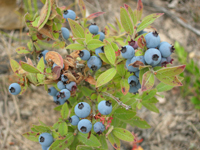 Select Publications
Janelle Baker. March 10, 2021. Logging Company Clears Cree Ancestral Trail with no Recourse. The Conversation.
Josephine Auger and Janelle Baker. February 22, 2021. How Universities can Support Indigenous Online Learners in the COVID-19 Pandemic. The Conversation.
Golzadeh, Nasrin, Benjamin Barst, Janelle Baker, Josie Auger, Melissa McKinney. 2021. Alkylated polycyclic aromatic hydrocarbons are the largest contributor to polycyclic aromatic compound concentrations in traditional foods of the Bigstone Cree Nation in Alberta, Canada Environmental Pollution 275(116625):1-10. https://doi.org/10.1016/j.envpol.2021.116625
Janelle Baker, Paulla Ebron, Rosa Ficek, Karen Ho, Renya Ramirez, Zoe Todd, Anna Tsing, Sarah E. Vaughn. Winter 2020. The Snarled Lines of Justice: Women ecowarriors map a new history of the Anthropocene. Orion Magazine.
Janelle Marie Baker. 2020. Editorial Writing during the Impossible: Tips for writing from an academic and mother. Journal of Integrated Studies 12(1):1-6.
Vandebroek, I., Pieroni, A., Stepp, J.R. et al. Reshaping the future of ethnobiology research after the COVID-19 pandemic. Nat. Plants (2020).
Baker, Janelle Marie. 2020. Do Berries Listen? Berries as Indicators, Ancestors, and Agents in Canada's Oil Sands Region. Ethnos 86(1):1-22.
Black Elk, Linda & Janelle Marie Baker. 2020. From Traplines to Pipelines: Oil Sands and Pollution of Berries and Sacred Lands from Northern Alberta to North Dakota. In Indigenous Peoples' Land Rights and the Roles of Ethnoecology and Ethnobotany: Strategies for Canada's Future, edited by N.J. Turner. Kingston: McGill-Queen's University Press.
Golzadeh, Nasrin, Benjamin Barst, Nilandri Basu, Janelle Baker, Josie Auger, Melissa McKinney. 2020. Evaluating the concentrations of total mercury, methylmercury, selenium, and selenium:mercury molar ratios in traditional foods of the Bigstone Cree in Alberta, Canada. Chemosphere 250(126285):1-10.
Baker, Janelle Marie. 2019. Bear Stories in the Berry Patch: Caring for Boreal Forest Cycles of Respect. Pp.119-137 In Extracting Home in the Oil Sands: Settler Colonialism and Environmental Change in Subarctic Canada. Clinton N. Westman, Tara L. Joly, and Lena Gross, editors. Arctic Worlds Series, David Anderson and Rob Losey, editors. New York: Routledge.
Baker, Janelle M. & Fort McKay Berry Group. 2019 . Cranberries are Medicine: Monitoring, Sharing, and Consuming Cranberries in Fort McKay. In Wisdom Engaged: Traditional Knowledge for Northern Community Well-Being, edited by L.M. Johnson. Edmonton: University of Alberta Press.
Baker, Janelle M. 2018. The Fern that Makes you fat: Access to Traditional Foods in the Canadian Oil Sands. Hektoen International A Journal of Medical Humanities, 10(4).
External Site
Baker, Janelle M. & Clinton N. Westman. 2018. Extracting Knowledge: Social Science, Environmental Impact Assessment, and Indigenous Consultation in the Oil Sands of Alberta, Canada. In The Extractive Industries and Society, (5):144-153.
External Site
Baker, Janelle M. 2016. Research as Reciprocity: Northern Cree Community-Based and Community-Engaged Research on Wild Food Contamination in Alberta's Oil Sands Region. Engaged Scholar Journal: Community-Engaged Research, Teaching, and Learning, 2(1):109-123.
External Site
Recent Invited Addresses and Podcast Interviews
Baker, Janelle. Indigenous Plant Kinship in the Canadian Oil Sands. Harvard University Weatherhead Center for International Affairs Canada Seminar March 22, 2021.
Baker, Janelle. Who are you Calling "Common"? Cultural Keystone Species in Extractive Zones. First Nations: Ethical Landscapes, Sacred Plants Symposium hosted by the New York Botanical Garden November 13, 2020.
American Anthropology Association Raising Our Voices Live-Streamed Roundtable. Multispecies Scholarship Across the Generation - In Conversation with Donna Haraway. November 7, 2020.
CBC and Athabasca University. Go the Distance: Learning Without Boundaries Podcast. Shelley Wiart: Building a New Approach to Indigenous Health.
Foodie Pharmacology with Dr. Cassandra Quave Podcast. Berry Patches, Bears & Oil Sands in the Boreal Forest with Janelle Baker. April 27, 2020.
Hill, Don. 2019 (January). Reconciling native wisdom and 21st century science. Genomics Podcast and Blog.
Media Exposure
Mayer, Andre. 2020 (July). What on Earth Podcast and NEWS Series: Seeing nature through Indigenous 'lens' might improve environmental decision-making.
CBC News.
Tucker, Amy. 2020 (February). Cyst-like abnormalities have been spotted in moose. Now Calgary scientists and Indigenous hunters pair up.
CBC News.
Anthony, Randall. 2019 (May). Improving health-care outcomes for Indigenous communities.
The Globe and Mail.
Leahy, Stephen. 2019 (April). This is the world's most destructive oil operation – and it's growing.
National Geographic.
Weber, Bob. 2018 (December). 'Both things are true': Science, Indigenous wisdom seek common ground. The Canadian Press.
External Site
McCarthy, Shawn. 2015 (November). Where oil and water mix. The Globe and Mail.
External Site
Updated March 24 2021 by Student & Academic Services